Part I: A deep look at memory care in Clark County and beyond
The latest science is changing future treatment and care for those with Alzheimer's disease and cognitive decline.
A few months ago, we saw a need for this article when several families came to us for help with finding more appropriate care for their loved ones struggling in Memory Care facilities. The personal stories from three of these families was very compelling and concerning. In one extreme case, the family considered taking their story to Kyle Iboshi, the Senior Investigative Reporter at Channel 8 News. In two other cases, Alzheimer's patients were sent to the emergency room and then told by the Memory Care Community they would not be allowed back into the facility. Unfortunately, we saw many of these scenarios.
All of these clients presented unique Care Management challenges for Adult Care Pro. We are happy to report for the past 6 months all of these seniors are doing well and the families are pleased with their new care facility.
While this series of articles is not an investigative piece on the challenges of memory care, our experiences prompted us to think about the big picture of memory care in our city and beyond and to ask some bigger questions about Memory Care.
Everyone agrees there is a need for improving our current approaches to these conditions but there is also exciting new research and scientific discoveries on the horizon. We are pleased to see Clark County's senior living communities such as Koelsch beginning to implement some of these new ideas and findings. (see below)
We began with reaching out to local Gerontologist Benjamin Surmi as well as some industry related medical doctors, a Neuroscientist and a university professor to name a few. This is why it became clear we needed to focus on the positive and commendable work we are seeing in Vancouver. At the conclusion we believe you will agree there is real hope for those living with cognitive decline. We are excited to share with you our findings in this series and desire you will find inspiration if you or someone you love is facing this challenging journey.
In our first part of this series, I interviewed Benjamin Surmi, a local Social Gerontologist. He serves as Director of People and Culture for Koelsch Communities. Koelsch Communities owns and operates The Hampton and Ashley Inn, The Hampton at Salmon Creek, and Cascade Inn in Vancouver. He also serves with HOPE Dementia Support and the annual Clark County Senior Heroes Awards. We are fortunate to have Benjamin part of our community; His dedicated work touches the lives of many people and inspires all of us at Adult Care Placements.
Are there ways we need to change our perspective on dementia?
Across the globe, cultures and countries are reinventing life with dementia. "In the past, experts and everyday folk assumed learning was impossible with dementia. They claimed that dementia steals our personhood. As a culture, we continue to think it is the worst disease possible," said Benjamin Surmi, Social Gerontologist and Director of People and Culture for Koelsch Communities.
Surmi continues, "In a variety of places, communities are acknowledging that these beliefs are false. We continue to grow and learn until we no longer breathe. We never lose our personhood – even deep into the disease. We may lose the ability to communicate with words and may experience personality changes; but we retain our personhood. Researchers at the University of Toronto have been exploring the concept of embodiment; their work shows that we put too much emphasis on the brain in connection with our personhood. Even when our brains no longer work efficiently, embodied deep within us is the ability to feel and express through creative non-verbal strategies."
Beyond the myths of personhood and learning, Surmi explained that cancer and AIDS/HIV were both highly stigmatized as the worst diseases possible during the 50's and 80's. Yet, over time, our culture came to acknowledge that a person could live and even thrive while living with various chronic diseases. "The fundamental shift appears to come when a community realizes that much of the suffering of a disease is a result of the community's response to the disease – not the disease itself. When neighbors and employees of every business begin to respond to people living with dementia as a whole person, we'll see the power of our community to impact life with dementia," said Surmi.
Are there examples in other countries of a positive view of people living with dementia?
"Yes," said Surmi, "the United Kingdom began a campaign to shift perspectives by encouraging people in all types of businesses to become Dementia Friends. Anyone may take the training which engages participants in understanding how small, patient acts of kindness and understanding in the grocery store, bank, on the phone, in the bus, or around the neighborhood can make all the difference in empowering a person to continue living a full life in the community. As of today, over 2.5 million people in the UK have become Dementia Friends. That's incredible when we realize that's 3 times as many as there are people living with dementia in that region."
We would like to close part 1 by applauding those individuals in our community who are working hard every day caring for those with Alzheimer's and Memory impairments; it is not easy work. We see these dedicated people as our community partners and we are committed to working even harder with them and the families we are privileged to serve. We see a lot of hope and believe Clark County will be an industry leader in the way we provide memory care.
How can readers learn more about new developments?
Stay connected with Aging 2.0; there is a new Portland chapter and an online presence. It's the hub for new developments. In Vancouver, care ambassadors from Europe are visiting on April 30th to share about how Europe, Japan, and Portugal care for people living with dementia. Visit www.livingwellevents.org for more information.
In part 2 May's edition: Dr McCann's vital information on how you can prevent cognitive decline and where to seek local treatment using the new science for the early stages of Alzheimer's Disease. Also, hear from a Neuroscientist and University Professor about the latest research to name a few.
Part 2: A deep look at memory care in Clark County and beyond: International care ambassadors promote 'Humanitude'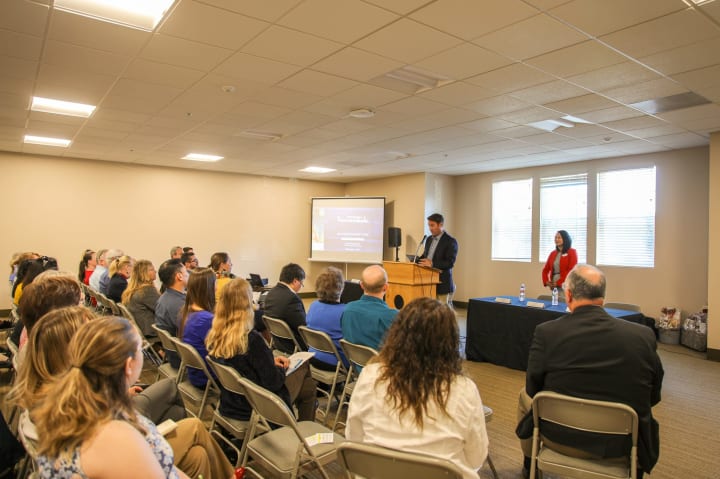 João Pärtel Araújo, visiting from Portugal, shared information on innovative care practices.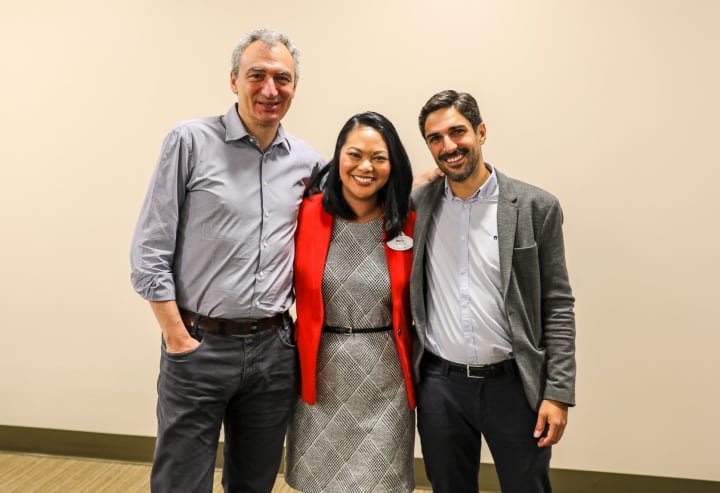 Franck De Vivie, Maria Cura-Castro, and João Pärtel Araújo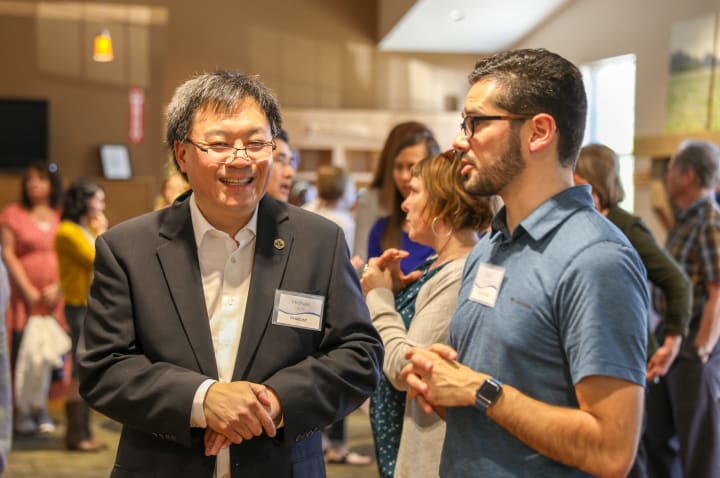 Michael Liu, MD, and Gabriel Castro
Franck De Vivie and João Pärtel Araújo, two "care ambassadors" from France and Portugal, recently visited Vancouver in an effort to promote a promising care philosophy for improving wellness among frail elders and those living with advanced dementia and Alzheimer's disease called Humanitude.
Starting in a small region of France more than 35 years ago, the Humanitude care method began noticeably improving the well-being of people living in nursing homes and was soon adopted in other parts of Europe and Japan.
The philosophy of Humanitude emphasizes the role of gaze, touch, talk, standing and physical autonomy in the care of people who are very frail or suffering from dementia or Alzheimer's disease. It emphasizes the importance of caregivers taking time to establish a social link with the individuals they are caring for in order to gain cooperation and mutual respect.
Humanitude involves more than 150 specific physical and communication care techniques. For example, one of the 150 techniques involves the caregiver gazing into eyes of the resident or patient at a specific distance for longer than what is typical in the United States. Another technique trains team members to map out clear paths of touch on the resident or patient's body that make bathing possible for those who resist. Yet another compels caregivers to attempt to get 95 percent of the people in their care to stand — a marked contrast to the view in the United States that being bedbound is inevitable for many people.
The results have been profound. In Europe and Japan, multiple studies show that individuals being cared for using the Humanitude method acted less violently, wandered around less often, had fewer verbal outbursts and were calmer, more emotionally stable and more cooperative. The Humanitude techniques also benefited mental and emotional health of the caregivers, with employees at care facilities using the technique reporting improved morale, less stress and more job satisfaction.
Through a partnership with Worksource, Benjamin Surmi, a social gerontologist with Koelsch Communities, brought the Humanitude team to the Vancouver area in April to train 17 nurses and caregivers who work in the four Koelsch memory care communities in the area.
"It's the first time anyone has been trained in the Pacific Northwest in these methods that are widely accepted throughout Europe," said Heather Nelson, RN, director of resident services at The Hampton at Salmon Creek. "After just four days … my caregiving team was able to help a woman stand who had not been able to stand for two years."
A trainer of nurses and caregivers, Surmi said he was immediately struck by how physical the Humanitude techniques were compared to most dementia care methods.
"In the United States," he said, "we teach a lot of theory, but have difficulty giving care teams the nitty-gritty tools for working with the most challenging situations."
The care ambassadors also presented Humanitude to an audience of health care professionals, leaders, caregivers and families at an event on April 30.
In his welcome of the care ambassadors, Dave Kelly, executive director of the Area Agency on Aging and Disabilities of Southwest Washington said: "Clark County has been a leader in seeking to be an age-friendly city. Hearing from people on the front line in other countries is essential to our remaining innovative and moving forward."
"Engaging young people in the field of caregiving has become increasingly challenging," Susan Thornton, MN, RN, clinical educator for Henrietta Lacks Health and Bioscience High School in the Evergreen School District said after the presentation. "The practical tools and powerful philosophy we learned about tonight are exactly what we need to teach the next generation of caregivers."
Catherine Van Son, PhD, of WSU Vancouver's School of Nursing, who also attended the presentation, said: "Humanitude meets the needs of individuals with dementia, but also those of the direct caregiver. Having tools to develop therapeutic relationships will not only increase the quality of life for older adults, but will also enhance the caregiving experience."
She went on to say that research is urgently needed in the U.S. to provide the evidence needed for widespread adoption. She said she will be looking for funding to pursue research-related Humanitude outcomes.
In August, part 3 of this series will look at new science findings and how to prevent dementia, and interview Shawn McCann, MD, about the Bredesen protocol. If you have comments or questions, submit them directly to the Messenger, PO Box 1995, Vancouver, WA 98668, or email news@seniormessenger.org.