Developments on Dale Road are heating up as another hotel, new restaurants, housing, retail and other projects are planned for the northwest Modesto site across from the Kaiser hospital.
The vacant land across from Kaiser Permanente medical center had its first two completed projects already open: the El Rio Memory Care Community in December 2017 and the Residence Inn by Marriott last fall. A new plastic surgery center will open later this month and an independent senior living facility called The Park should be ready this fall.
Other projects which have not started construction yet include a new Courtyard by Marriott hotel, a retail project with restaurants and shops, a gas station and large luxury apartment complex. The developments are within the Kiernan Business Park, which encompasses sections of Kiernan Avenue, Dale Road and Bangs Avenue on the city's northwest edge.
"I think it's very encouraging to see the development. We had shovel-ready ground there that has been sitting stagnant for a long time," said Modesto City Councilman Mani Grewal, whose business is involved in both hotel projects. "Seeing the development is really encouraging."
The new Courtyard by Marriott will be a 94-room hotel with a Courtyard Bistro restaurant and Starbucks coffee shop inside. Grewal said he expects construction to start sometime next year, with an eye on late 2020 completion. The existing 95-room Residence Inn by Marriott opened in late October and has been busy ever since with a 90 percent occupancy rate, he said
Across from the Residence Inn is the new Surgical Artistry from Drs. Tammy Wu and Calvin Lee. The plastic surgery practice will relocate from its current Sylvan Avenue site, where it has been since 1999, to the new location on March 22. The new building is three times larger than the old office and will include an operating center.
The City of Modesto has received plans for a 5,388-square-foot retail project that will include an unnamed coffee shop with drive thru, pizzeria and boutique. Grewal said a Chevron station is also planned.
To the south of El Rio and The Park a 200-unit luxury apartment complex is going up from Turlock-based builder JKB Living. The project called Luxe Kiernan will have one-, two-, and three-bedroom apartments with full amenities. JKB has a similar project in Ripon, and another planned in Hilmar.
Ground work should start around end of May, early June, with construction expected to begin in September. Dave Hahn with JKB Living said the complex would take around a year to year and a half to finish, but residents could move in as early as fall of 2020. Leasing should begin toward the end of summer.
The projects are all welcome to existing businesses in the area, among the first to crop up around the hospital.
"It's been very exciting. We were the first building on this large parcel out here off Dale Road. (There's been) lots of excitement; people just drove by the whole time during construction, which was about a year and a half, so curious and wondering what's going on out here," said Mary Keaton, the executive director of El Rio, a 60-room memory care facility for people with Alzheimer's disease and dementia.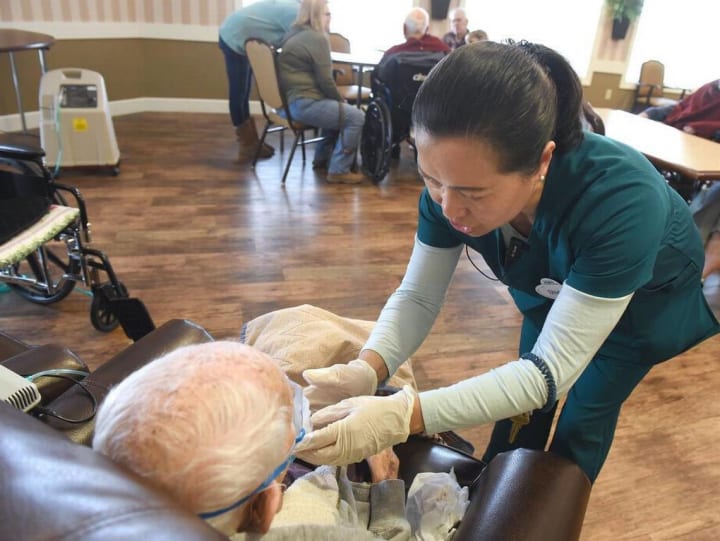 Since opening, El Rio has reach 92 percent of its 72-person capacity, drawing residents from the valley and Bay Area. Across from the center, work continues on The Park, a 131-apartment independent living facility for people age 55 and over. Both El Rio and The Park are owned and operated by Washington-based Koelsch Communities.
The Park is expected to open this fall and has already leased about 44 percent of its spots – studio, one-bedroom, one-bedroom with den and two-bedroom apartments. Apartments start at $2,600, going up to $5,500 a month. Amenities will include most utilities, cable, internet, weekly housekeeping, transportation services, regular excursions, breakfast, dinner Mondays to Fridays and more.
The Park Director of Community Relations Colette Robison said having the hospital and hotel nearby have been a big draw. And the new developments will only enhance that.
"It's been awesome, we're close to shopping and restaurants and it's a great area to develop in," Robison said. "There's so much interest in what's going on here and that has helped us tremendously."