Signature Programs
24-Hour Nursing
When you're looking for a Memory Care Community for your loved one, we know your top priority is the quality of health care they'll receive. At Rock Creek, our qualified nurses, both RN and LPN, are available 24 hours a day and are professionally trained to give Memory Care and Assisted Living residents the care that is pertinent to their needs. Rock Creek recognizes the complex and frail health conditions that many residents are experiencing, and our number one priority is giving your loved one the highest level of care and treating them with the utmost professionalism.
Our Licensed Nurses are qualified to:
Provide comprehensive nursing assessments
Manage individual care plans for residents with memory loss
Medication management
Have direct contact with physicians and resident medical caregivers
Manage respiratory issues and monitor oxygen
Recognize changes in physical and cognitive condition
Make key decisions in emergency situations
Provide diabetic management 24 hours a day including injections, glucose levels, skin care, nutrition, and podiatrist visits
Catheter care
Colostomy care
Complete initial screening for urinary tract infections
Manage G-tubes
Wound care including surgical wounds and pressure ulcers
Diabetic Management
At Rock Creek we're committed to helping residents with diabetes live a healthy lifestyle, and maintain an enriched life. Our team of professional nurses and staff members are trained in diabetic protocol and are efficient in identifying and responding to diabetic reactions. You can rest assured in knowing that our 24-hour team of licensed nurses can:
Effectively monitor the side effects of our diabetic residents' medications
Offer sliding-scale diabetic management
Healthy monitoring of glucose levels
Provide insulin injections around the clock, 24 hours per day, seven days a week
Care for diabetic residents with memory loss and other assisted living needs
Other specialized diabetic management services offered at Rock Creek at The Park include:
Foot care by Podiatrist/Licensed Nurse every month
Massage therapy to help increase circulation
Healthy weight management with exercise and nutritional options
A variety of diabetic options during meal time
Portion control for healthy weight management
Automatic water temperature control to safeguard against accidental burns in the sink or tub
A variety of exercise programs to promote increased circulation, weight management, balance, increase range of motion, stamina, and strength
Support Groups
Living, loving and caring for a family member with Alzheimer's, Dementia or other forms of memory loss is a unique challenge. It takes the support of those who understand what you are experiencing, and are prepared to be supportive through the journey. At Rock Creek, our support groups offer family and friends the opportunity to meet and talk in a private and mutually supportive atmosphere. Often solutions come from others on the same journey at a different point in time. This community of care provides emotional support and continuing education. To ease your schedule, hourly care is provided for your loved one during your support group visit to our community. Please contact us to find out about support groups meeting at Rock Creek.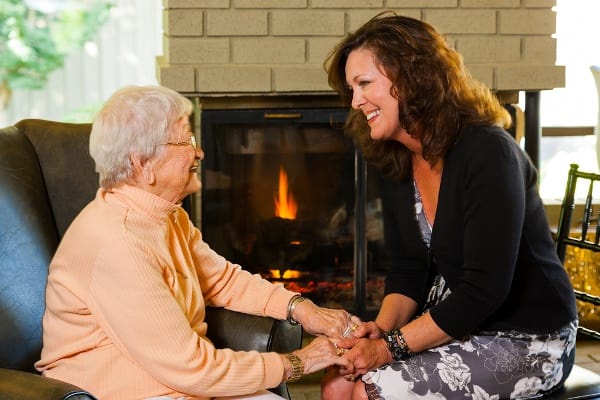 Living Well
Living Well, our cognitive wellness program, is a holistic approach aimed at maintaining residents' well being and self-worth. We are all different, and Living Well is dedicated to honoring the uniqueness of each individual and connecting them to the relationships in life that they thrive on.
When you work in Memory Care it's inevitable to see connections to the world slip away as dementia takes hold, and with them can go the quality of life. Keeping those connections alive and active leads to a longer, healthier and more fulfilling life—and that's where Living Well comes in.
Living Well is our way of caring for people that instills those connections into every moment of their day; into the very heartbeat of our resident's lives. It's not an activity or a program, it's how we design our programs and our days. It's how we train our staff. Living Well is a way to serve and care for people that makes them feel alive, and elevates them to a place where they feel connected—no matter what the odds.